O.A.R.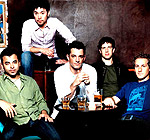 O.A.R. was formed by Marc Roberge (singer/guitarist) and Chris Culos (drummer) while being students at Ohio State University. The rest of the band members are Benj Gershman (guitarist), Richard On (saxophonist), and Jerry DePizzo.

The group, started by playing at local bars but started making news when their friends began taping those shows and posting them on the Internet.

O.A.R.'s third and most recent album, 2001's "Risen," was released on the band's own Everfine label and debuted at No. 11 on Billboard's Internet sales chart alongside the likes of Lenny Kravitz and U2.

The flavor of the bands songs is smooth folk and pop. Roberge says the direction of O.A.R.'s sound was never much in question, explaining, "We just felt we hit the music we wanted to hear right on the head."
Genre: Folk/Pop/Alternative

Discography

Albums
In Between Now And Then (2003)
Risen (2004)
Souls Aflame (2004)
The Wanderer (2004)
Any Time Now (2004)
34th And 8th (2004)
Stories Of A Stranger (2005)
Hit Singles
Revisited (2004)
Hey Girl (2004)
Rolling Stone Original (2005)
The Stranger (2005)
Exclusive Live Tracks (2005)