My Morning Jacket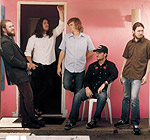 My Morning Jacket is a southern rock band formed in 1998 in Louisville, Kentucky and consists of Jim James (singer/songwriter/guitarist), "Two Tone" Tommy (bassist), Patrick Hallahan (drummer), Carl Broemel (guitarist), and Bo Koster (keyboardist).

The band released their first album "The Tennessee Fire" with the independent label Darla Records. In 2003 they released their first record "It Still Moves" with ATO/RCA Records. They performed at The Bonnaroo Music Festival in 2003, 2004 and 2005. In that same year, Jim James featured on the "Bright Eyes" album "I'm Wide Awake, It's Morning" and later that year their newest album "Z" followed.

The band's 2004 Bonnaroo Music Festival appearance has been cited by many fans as one of the most legendary performances in the band's history, which is known to some as the "Return To Thunderdome".
Genre: Southern Rock

Discography

Albums
The Tennessee Fire (1999)
At Dawn (2001)
It Still Moves (2003)
Early Recordings Chapter 1 - The Sandworm Cometh (2004)
Early Recordings Chapter 2 - Learning (2004)
Z (2005)
EPs
Heartbreakin Man (2000)
Split EP (with Songs:OHIA) (2002)
Chocolate and Ice (2002)
Sweatbees (2002)
My Morning Jacket Does Xmas Fiasco Style (2002)
Acoustic Citsuoca (2004)