INXS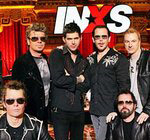 This Australian rock group was formed in 1977 and consists of Michael Hutchence (lead vocals), Andrew Farriss (guitar and keyboards), Tim Farriss (lead guitar), Jon Farriss (drums), Garry Gary Beers (bass), and Kirk Pengilly (saxophone and guitar). On September 20, 2005, Canadian singer J.D. Fortune became the band's new lead vocalist after a twelve-week competition on the CBS reality show Rock Star: INXS.

The group started as The Farriss Brothers but the band later changed their name to INXS in 1979, just prior to the release of their self-titled debut album in 1980.

The band reached it's popularity with 1987's pop-rock Kick, which yielded four top-ten US singles, including the number-one hit "Need You Tonight." Throughout the 1980s and into the 1990s, INXS was a major force in Australian popular music but by the mid-nineties, the group's popularity had waned, especially in the US, where their "Greatest Hits" compilation failed to reach the top 100. In 1997, the group released a comeback album titled Elegantly Wasted, which fared respectably in Australia, Canada and Great Britain, but struggled miserably in the US.

On November 22, 1997, Hutchence was found dead (in an apparent suicide) in his Sydney hotel room. Since then, Terence Trent D'Arby, Suze DeMarchi and Jimmy Barnes acted as temporary lead singers for INXS. Jon Stevens began singing with INXS in 2000 and was officially named a member of the band in 2002 but left in 2003.

INXS started making news in 2004 when it was announced that a new reality television program titled Rock Star: INXS would feature a contest to find a new lead vocalist for the band. On September 20, 2005, J.D. Fortune (real name Jason Dean Bennison) of Oakville, Ontario, Canada, won the eleven week competition, which culminated in his singing the Rolling Stones's "You Can't Always Get What You Want" and INXS' "What You Need" in the finale of the show to become the new lead singer of INXS. He will record the new album with producer Guy Chambers and will go on a world tour with INXS in 2006. Runner-up Marty Casey will also join the world tour as the opening act, along with his band, The Lovehammers.

On November 29, 2005, the band's first album in eight years will be released, titled Switch.