Green Day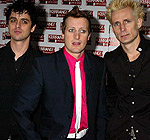 This California based punk rock band consists of Billie Joe Armstrong (lead vocals, guitar), Mike Dirnt (bass, backing vocals, born Michael Ryan Pritchard), and Tré Cool (drummer, backing vocals, born Frank Edwin Wright III, in Germany). Since their sixth album, the band have included close friend and associate, back-up guitarist Jason White.

Their success has been a major influence on other prominent pop-punk bands, such as Sum 41 and blink-182.

Green Day is credited as having paved the way for the pop punk genre with their 1994 album Dookie. In 2004, their second best-selling album American Idiot enjoyed acclaim and won the band a Grammy Award for "Best Rock Album". Green Day swept the MTV Video Music Awards 2005 winning seven out of eight nominations: "Video of the Year", "Best Rock Video", "Best Group Video", "Best Direction", "Best Editing", "Best Cinematography" - all for "Boulevard of Broken Dreams", and the "Viewer's Choice Award" for "American Idiot".

Genre: Punk Rock

Discography

Albums
1,039/Smoothed Out Slappy Hours (1991)
Kerplunk! (1992)
Dookie (1994)
Insomniac (1995)
Nimrod (1997)
Warning: (2000)
American Idiot(2004)
Hit Singles
Basket Case (1994)
Longview (1994)
Welcome to Paradise (1994)
She (1995)
When I Come Around (1995)
Brain Stew (1995)
Geek Stink Breath (1995)
Stuck With Me (1995)
Walking Contradiction (1996)
Time of Your Life (Good Riddance) (1997)
Hitchin' a Ride (1997)
Nice Guys Finish Last (1998)
Redundant (1998)
Minority (2000)
Warning (2000)
Waiting (2001)
Macy's Day Parade (2001)
American Idiot (2004)
Boulevard of Broken Dreams (2004)
Holiday (2005)
Wake Me Up When September Ends (2005)