Coldplay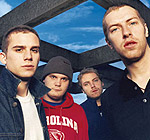 This British quartet known as Coldplay, consists of Chris Martin (lead vocals, lead piano/keyboard, guitar), Jon Buckland (lead guitar, harmonica, backing vocals), Guy Berryman (bass guitar, synthesizer, harmonica, backing vocals), and Will Champion (drums/percussion, piano, backing vocals).

The band's early songs were influenced and reminiscent of those of U2, A-HA, Radiohead, Jeff Buckley, Pink Floyd, Oasis, Travis, Pink Floyd, Neil Young, and Kraftwerk, among a few. Coldplay soared in popularity since 2002's A Rush of Blood to the Head. The group's global album sales have gone past the 10-million mark, putting it in the same level as megabands U2 and the Dave Matthews Band. More interesting is the fact that lead singer Chris Martin married Gwyneth Paltrow to make Coldplay one of the much talked about bands.

Coldplay has turned down multi-million dollar contracts from Gatorade, Diet Coke and The Gap, who wanted to use the songs "Yellow", "Trouble", and "Don't Panic" respectively. The band remains protective of how their music is used saying, "We wouldn't be able to live with ourselves if we sold the songs' meanings like that."
Genre: Alternative Rock

Discography

Albums
Parachutes (2000)
A Rush of Blood to the Head (2002)
X&Y (2005)
Live 2003 (2003)
Hit Singles
Brothers and Sisters (1999)
Shiver (2000)
Yellow (2000)
Trouble (2000)
Don't Panic (2001)
In My Place (2002)
The Scientist (2002)
The Scientist DVD Single (2002)
Clocks (2002)
Clocks DVD Single (2003)
God Put A Smile Upon Your Face (2003)
Speed of Sound (2005)
Fix You (2005)