Black Eyed Peas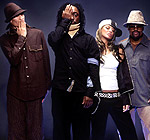 This American hip-hop group, who have lately enjoyed massive international pop success, is composed of will.i.am, Apl.de.ap, Taboo, and Fergie.

In 1998, Atban Klann renamed themselves as the Black Eyed Peas and released a debut, Behind the Front, that earned the group (and their accompanying live band) critical acclaim. A new female vocalist, Stacy "Fergie" Ferguson, joined them in 2003 with their breakthrough album. Fergie replaced background singer Kim Hill, who left the band in 2000.

From Elephunk came the anti-war anthem "Where is the Love?", which became their first major hit, peaking at #8 on the US Hot 100, but topping the charts practically everywhere else, including six weeks at #1 in the UK where it became the biggest-selling single of 2003. The album subsequently spawned "Shut Up", which peaked at UK #2 (despite being referred to by one reviewer as "the single most vacuous, pointless, vile and generally loathsome song in a generation") and topped the charts in many other European countries including France and Germany. The third single from the album, "Hey Mama" hit the Top 10 in the UK, Germany and several other European countries, and reached the Top 30.

During Black Eyed Peas' concert tour in Asia in 2004, Apl.de.ap's life story was featured in a weekly Filipino TV drama special called Maalaala Mo Kaya (Will You Remember), which explained his childhood with his poor family in Pampanga, Philippines, before sadly parting with them to live a better life in the US at the age of 14. "The Apl Song", with the chorus written in Tagalog (Filipino), from their album Elephunk, tells the story of Apl.de.ap. The Tagalog lyrics and backing melody were based on the song "Balita", an original composition of the 1970s Filipino folk rock group Asin. The group eventually produced an exclusive video of the song in the Philippines while touring the country as part of their album promotion.

The Black Eyed Peas' song "Let's Get Retarded" was restyled as "Let's Get it Started" for an NBA Finals worldwide commercial.

Their next album, Monkey Business, was released on June 7, 2005. The album's first single, "Don't Phunk With My Heart", was a major hit in the US peaking at #3 on the Billboard Hot 100. The song is also at #3 in the UK, and #5 in Canada, and #1 in Australia. (Some radio stations skittish about complaints of obscenity, play an alternate version, "Don't Mess With My Heart."] "Monkey Business," Black Eyed Peas' fourth album debuted at #2 on the Billboard 200 Albums Chart, selling over 295,000 copies in its first week.
Genre: Hip-Hop/Rap

Discography

Albums
Behind the Front (1998)
Bridging the Gap (2000)
Elephunk (2003)
Monkey Business (2005)
Hit Singles
Joints and Jams (1998)
Fallin' Up (1998)
Que Dices (1998)
BEP Empire (2000)
Weekends (2000)
Get Original (2000)
Request + Line (2001)
Where is the Love (2003)
Shut Up (2003)
Hey Mama (2004)
Let's Get It Started (2004)
The Apl Song (2004)
Don't Phunk With My Heart (2005)
Pump It (2005)
Don't Lie (2005)
My Humps (2005)